Our main role in Brazil is to help catalyse socio-economic development among settled and camped families belonging to the Landless Workers' Movement, providing management training for key local stakeholders to improve the performance of cooperatives, from production to marketing.
Since 2008 we have been working on the ground with a team of people with extensive experience in cooperatives, such as EROSKI, ULMA and COPRECI, to serve individuals and cooperatives associated with the Landless Workers' Movement (Movimento dos Trabalhadores Sem Terra, or MST). MST is a social movement in Brazil that has been struggling for agrarian reform and social justice since 1985.
Continue reading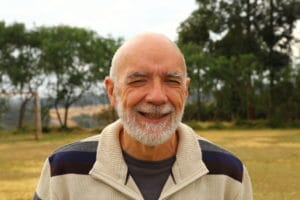 One of Mundukide's core objectives is to achieve sustainable human development in its areas of activity (different countries in the Southern Hemisphere).
Imanol Igeregi Bilbao, Volunteer Paraná and Santa Catalina
28k

28,738 people served, 51% women

22

22 cooperatives supported in five states

5.6k

5,679 coop members

8

8 new stores selling organic products
"The work we do here has direct, visible results." Interview with Jon Etxeberria, Mundukide volunteer worker in Brazil. Jon explains his experience in Brazil and the details of his work with Mundukide.
View video
The Federative Republic of Brazil is the world's fifth-largest country and the second largest in terms of land tenure inequality. We are therefore dealing with a country of inequalities and contradictions.
The development of Brazilian agriculture, based on the concentration of land ownership in latifundia farms, has been extremely exclusive. This process has been compounded with profound changes in the relationships between urban and rural areas and employment in the countryside.
One of the most chilling results of inequality in the countryside is that of the 31.5 million people suffering from hunger, more than half live in rural areas.
Data and findings indicate that despite some redistributive measures the country fails to address inequalities in a structural way and has been unable (even when it underwent an economic boom) to develop its potential for further social development.
The Landless Workers' Movement (MST) is a social movement in Brazil that has been struggling for agrarian reform and social justice since 1985. The movement was historically built by peasants, who now have the opportunity to become professionals and lead in the organisation of production cooperatives and associations.
Since 2008, Mundukide's partnership with MST has enabled us to collaborate in organising and building the collective marketing tools developed by the movement to market products from agrarian reform areas, and to establish new forms of organisation, making the Popular Agrarian Reform project feasible.
Brazil
Capital: Brasilia
Language: Portuguese
Area: 85.157.703 km²
Population: 212.216.063 hab.